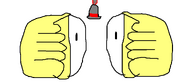 He is a mini-boss from Snaily 2 and Snailiad 3: the last hurrah that they smash.
He do the same move as Master Hand and Wham bam rock.
He that hand form of stompy.
In snailiad 49 he can throw snaily and has the same moves as master hand.
Unlike stompy he's more easier to kill because of the eye.