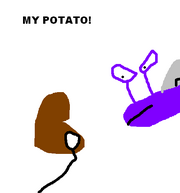 This is from snailiad 5.
Rhis is a completely nonsensical side-game for snailiad.
A dog just ate Buddy bud's potato, and Buddy bud is MAD! go throough a short game to get veangeance on the dog for taking that potato!
I WANT THIS POTATO
Edit
BUDDY WANTS POTATO! (Robot wants potato a fan game by me i'm going to make the game page from robot wants fanon wikia)
NO DOGGY I HATE THIS!
THE FINAL
When you type on MYPOTATO! on snailiad 22 after when you type on budilad = buddy bud lose his potato because of the dog.
All enemies from snailiad 1 to snailiad 3 excet no slimeball in the game
Walkthoughs
Edit
1-1 you have to jump and there one spikey avoid it!
1-2 two spikies avoid those two.
1-3 same as 1-2 but a blob is here and can jump avoid the spikies and blob.
1-4 one spikey and blob avoid those.
1-5 you will get the pea shooter and kill the spikies that block you.
1-6 two blobs in this level shoot them 1 got the key.
1-7 a blub is here avoid it!
1-8 you need to get the shell sheid to douge the spike.
1-9 a chripy swarm use the pea shooter to kill them.
1-10 a dog appears and beat him!
1-11 no enemies just get the boomerang atfer getting it you will fight a blub.
1-12 you have 2 hp now a spike and you got hurt and get the grass to heal.
1-13 a red spikey he's hard to beat him by a pea shooter and use the boomerang to kill him easy.