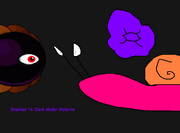 Dark Matters are now attacking snail town.
Moon Snail turn to be a dark matters.
Heavy Lobster is no longer toget attack by blob, blub, peashooter blob, flying blob and angel blob.
Animal friend are now in the game as snaily's friends like gooey the blob.
Ad blocker interference detected!
Wikia is a free-to-use site that makes money from advertising. We have a modified experience for viewers using ad blockers

Wikia is not accessible if you've made further modifications. Remove the custom ad blocker rule(s) and the page will load as expected.