Psycho iris's problem is dark matter's zero 3.
Dark matter have a bigger fandom form call 03/ Zero three.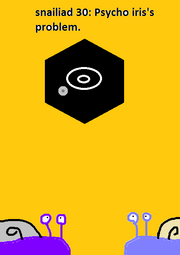 Snaila: Snaily is sad.
A stange sonud cooming in the castle.
Buddy: That castle in the warm welcome.
BEH BEH BEH!
Zero two song play
Buddy: I think it the dark eye.
Snaila: Let find him.
Psycho Iris: BEHHY BEHHY HEH!
Went they battle dark matter
Edit
DarkMatter: Your not nice to me.
Buddy: Do you have a star form.
DarkMatter: Shut up buddy.
Buddy: Do you see drawin?
DarkMatter: WHO DRAWIN?
Buddy: Drawin is more evil than you.
Snaila: He also dies along with snaily.
DarkMatter: YAY SNAILY DIE!
Buddy: Your too happy when snaily dies.
Snaila: You fight iris.
Iris: But i so weak to darkness beh snaila.
Iris: I am a sprit of the snaily world.
Iris: Beh beh beh my weakness is love.
Snaila kiss dark matter.
Dark Matter: It hurt my eye.
Dark matter trap buddy and snaila.
Battle starts.
Psycho Iris: BEH?
Psycho Iris: IOAUDSHUIDBUXBISUHWIDHUCUISJAUIOXOSDJOFJIIDSUCSUIQUHWDIFFKLA!
03: MY OTHER FORM IS THE DARK STAR BUT NOOOOOOOOOOOOOOOOOOOOOOOOOOOOOOO!
03: NOOOOOOOOOOOOOOOOOOOOOOOOOOOOOOOOOOOOOOODHSHXKSAHDIUSIYHFUSHJSIAAJX!
03 dies.
Psycho Iris: Beh beh i will miss you a lot of days.
Psycho Iris: Bye snaila and buddy.
Psycho iris dies.
Buddy: Ok so there me and snaila.
Snaila: Snaily also die.
Buddy: Yes snaila.
THE END
Next game is snailiad 31: the final very last showdown were all characters die.
Ad blocker interference detected!
Wikia is a free-to-use site that makes money from advertising. We have a modified experience for viewers using ad blockers

Wikia is not accessible if you've made further modifications. Remove the custom ad blocker rule(s) and the page will load as expected.