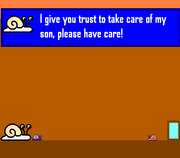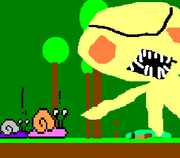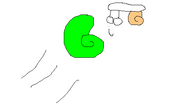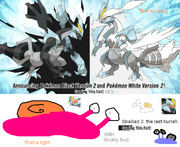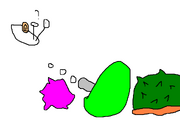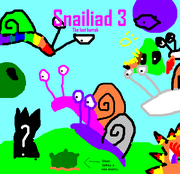 Snailiad 3 is the third game in ther series,
I
ill make this after Snailiad 2
zomes out
Story
(Shows snaily snail taking out Rainbow snail)
(Shows Moon Snail got attack by a Peashooter Blob, Green Spikey and a Acidball by a nightmare)
(Shows snaily snail looking at the sunset after that)
Snaily snail brought peace to snail town for the second time...
(Shows snaily asleep in a tree house)
and he though it was all over...(Shows shadow of penguin)
Psychic strom comes
but can he face the last hurrah???
Special fetures
you can bring a buddy along to help you on your journey

If you go without one,and try to leave snail town, a snail ill say "SNAILY!!!" and a orange bodied, blue shelled snail will go up to you and say "Don't go alone, it's much more dangerous than before!"

Legend snail, the greatest form of snaily snail
More will be added later
New enemies Spider Papa, Golden Blob and Celling Pincer.
Moon Snail is no longer a villian and battle him.
New bosses: Cannonigoo, Blob-zooka, Dragon snail, Mega Spikey, Acidic slime, (SPOILER ALERT!!!!!!!!!!) and Psycho Iris but Something REALLY hard only in boss rush.
Buddy, a purple snail with a grey shell that acts as a helper
New rooms: Sea of endless, Inside provaddda, Jungetin floraxia and Beyond snail world.
There a false bad ending then the enemies ending is on.