The block version of snaily epic yarn Snaily snail and buddy bud turn to blocks.
Psycho iris also turn to a block.
Block-o-block is the final boss in this game.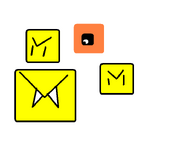 Enemies:
Spikey
Blob
Blub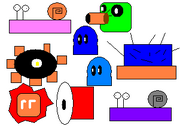 Fireball
Walleye
Dark Violet Eyefly
Gordo
Bosses shell breaker has to be not in the list:
Stompy
Snatchy
Blob-Zooka
Provaddda- Acts like prince froggy and can simmon baby acidac slimes
Dark Matter
Drawin
Block-o-block
Psycho Iris think she is a male.
Dark Matter will have a new plain to do.
Shellbreaker was nice but stompy was the only boss from the first snailiad game that a enemy.
Ad blocker interference detected!
Wikia is a free-to-use site that makes money from advertising. We have a modified experience for viewers using ad blockers

Wikia is not accessible if you've made further modifications. Remove the custom ad blocker rule(s) and the page will load as expected.