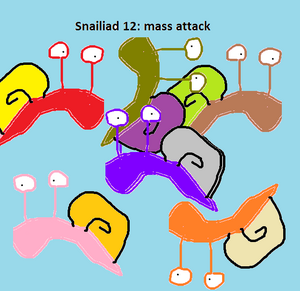 Snaily is chewing monsters for dinner and is so happy. One day all of the mass of his body came out but then snaily realized he was invinicible so he can't ever die because his dad put the invincibility in him. So no mass attack TADA NOW ARE YOU HAPPY YOU GOOFY PEOPLE WHO ARE LOOKING UP ON THIS WIKI. ARE U HAPPY OR NOT DX. This wiki doesn't like you. :( The other page has been canceled by dll injector. Sorry about that.
Ad blocker interference detected!
Wikia is a free-to-use site that makes money from advertising. We have a modified experience for viewers using ad blockers

Wikia is not accessible if you've made further modifications. Remove the custom ad blocker rule(s) and the page will load as expected.