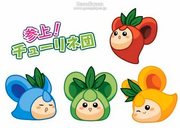 You have to fight mouser and the squeak and the one that look like petilils.
Many cottonees are flying in the ending.
All of the Spueak Squad come from kirby.
Sprays are in this game.
Chip from kirby got ears.
Cottonee's cry is hear in the ending.
Chip
Cupid Enemy
Bomb Plant
Blipper
Psycho iris is not a villan because she will join you to psychic enemies.
More kirby enemies are added.
King Dedede is the first boss in the game.
There is a true boss rush now but all of them are the 3th form.
The one that are in the game was Chip the plant-looking-bomb and this cupid enemy.
Box Fighter and Boxii are added.
Dark star is not last boss in the game because it change to marx.
Marx will act like dark mind.
Ad blocker interference detected!
Wikia is a free-to-use site that makes money from advertising. We have a modified experience for viewers using ad blockers

Wikia is not accessible if you've made further modifications. Remove the custom ad blocker rule(s) and the page will load as expected.